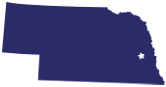 Somers Point I & II
Fremont Housing Agency owns Somers Point I & II, 64 units, on North Somers Ave., financed by NIFA Tax Credits (LIHTC) and Nebraska Affordable Housing Trust Funds, which will serve eligible citizens 62 years and older who qualify according to the area median incomes established by NIFA. Please contact us if you have any questions.
Click to View Detailed Property Information
Property Details
This very affordable senior living complex is located on West Somers Point Drive, just off North Somers Avenue, in Fremont, Nebraska.
Somers Point I consists of 32 two-bedroom living units completed in 2000.
Somers Point II consists of 32 two-bedroom living units completed in 2003.
A large clubhouse, located in the center of the complex, serves the social needs of both Somers Point I and II residents.
These two-bedroom units offer a full kitchen, bath (with tub and shower combinations), carpeted living room and bedrooms, modern appliances (dishwasher, garbage disposal, clothes washer/dryer, stove, refrigerator) and an attached garage. The units also have central heat and air conditioning. The Fremont Housing Agency is responsible for all maintenance of these units.
Handicapped Accessible Units are also available at this site.
Rent includes water, sewer, and garbage removal fees. Services provided include all groundskeeping of lawn care and snow removal. Interior and exterior maintenance are provided by the Fremont Housing Agency maintenance department. Tenants pay for their own electricity, cable TV, and telephone. Small rent increases are budgeted on an annual basis.
While electrical utilities are not included in the rent payment, the units are very efficient for utility-conscious persons.
Rental assistance may be available for persons or couples who qualify.
Rent for these units is set annually within tax credit guidelines. Contact us for the current income guidelines.
Eligibility
All units will be rented to individuals 62 years of age or older who meet the current income guidelines. Please contact us for more information.
The Application Waitlist is always open.
Things to consider
Low utility cost, no maintenance, dishwasher, garbage disposal, laundry (washer/dryer), attached garage, handicapped/disabled accessible apartments, rental assistance may be available.
We would be pleased to answer any questions that you might have and show you what we currently have available. Please contact the Fremont Housing Agency.
Somers Point I & II are Smoke-Free Residences.
Find your Home in Fremont, Nebraska